T&D MACHINE PRODUCTS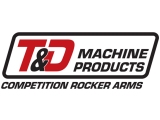 T&D MACHINE PRODUCTS
T&D Machine Products has been manufacturing specialized components for racing since 1975. A successful drag racer and small business owner, Larry Tores founded the company in his back yard garage, starting with better pieces for his own racecars, spreading to machining similar items for his friends, and moving into components for major motorsports manufacturers.
One of these product lines was shaft-mount roller rocker systems. Tores, a many time NHRA event winner, and other competitors proved the merit of the firm's rocker systems. In the early 1980s T&D was called upon to develop valve train components for Buick's stock block V-6 engine program which eventually established new performance standards at the Indy 500 and in Busch Grand National competition.
The success of this and other programs led to requests from engine builders from every form of motorsports for T&D to engineer similar shaft-mount roller rocker arm systems for the power plants they were developing and racing. It wasn't long before T&D Machine Products was only producing rocker arms.
In 1992, T&D outgrew its facility in Culver City, California, and relocated to a new facility in Carson City, Nevada. In 1999, that building was expanded by 75% to meet the increasing demands of the rocker arm business. Each year new CNC machining centers have been added as technology improves and the demand for product increases. Recently, a computer controlled coordinate measuring machine (CMM) has been added to the engineering and quality control departments to continue to keep T&D at the very pinnacle of excellence.
The year 2010 marked 35 years of T&D Machine Products as a manufacturer of racing technology. T&D's racing heritage and experience have helped mold T&D into a company that builds the finest products available -- racers listening to other racers, then building the pieces that racers want, need and help them do the job that needs to be done.
Today T&D manufactures rocker arm systems for over 400 cylinder heads and has developed a reputation for reliability and customer service second to none in the aftermarket industry. T&D enjoys a customer base that includes the finest professional performance engine builders, NASCAR teams and legions of individual car and boat racers around the world.
And, contrary to others who have chosen to compromise quality by sending their manufacturing offshore, all the rocker systems from T&D Machine Products are proudly manufactured in the USA.