AMAZON & EBAY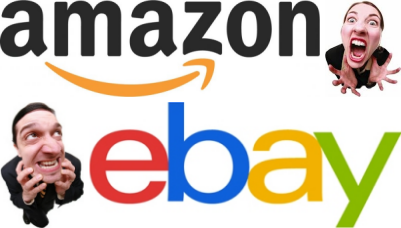 So you think that exhaust on Amazon or eBay priced $30 cheaper is a great deal, right? It's being sold by a "company" called A-A Inc. You can buy it at COLORADOSPEED for $800 or from A-A Inc. for $770 because it's all about the lowest price. Well is it? Most people look at pricing and that's it and that's sad. They end up shooting themselves in the foot in the end.
Say you buy that $730 exhaust off Amazon or eBay from a third seller. You receive it and it's Friday and you're gonna install it Friday night so you can show off how it sounds Saturday at the car meet. Well guess what? You get home after work and either two things happened. The box is damaged and either some piping is dented or those nice polished tips are damaged. Yes, it happens. Those are big boxes and the guys handling the packages at UPS and FedEx are brutal on them. Your giant package literally gets tossed in the truck because it's rush rush rush! You did after all order it with express shipping.
Have you ever gone through the process of trying to contact an Amazon or eBay seller when you have a problem? It's a pain in the ass. Especially Amazon. There is no phone number to contact the seller and you have to go through Amazon or eBay's contact system.
It's Friday night. Expect an answer Monday or Tuesday at the earliest.
Was it worth the $30 you saved now?
You can always call or e-mail COLORADOSPEED if you have an issue with your order. COLORADOSPEED will try to resolve your issue as best as possible the same business day within reason. That's where your $30 you saved comes in. You can be assured that there is a phone number or e-mail you can use to contact COLORADOSPEED. Not some ridiculous procedure like this guy
Amazon Kind Of Sucks And We've All Just Come To Accept It
What's even worse, Buy an aftermarket performance part like an intake manifold that requires some tech support from Amazon or eBay because the installation instructions aren't clear on which fuel rails will fit. It said GM LS but your LS7 rails won't fit. You just saved $50 on a $400 part. Who are you gonna call? The seller? No. There's no phone number to call.
COLORADOSPEED no longer offers tech support on products not purchased through COLORADOSPEED. If Amazon or eBay earned your business, Amazon or eBay can follow up with the customer service. Our paying customers deserve our full attention. We've given out too much tech support for products not purchased from us and our paying customers have suffered for it.
Again, you can always call or e-mail COLORADOSPEED if you have a tech issue with your order. Our phone number and e-mail are available publically, no run around.
JUST REMEMBER, YOU'RE NOT BUYING A $20 COFFEE MAKER, YOU ARE BUYING EXPENSIVE AUTOMOTIVE PERFORMANCE PARTS AND CUSTOMER SUPPORT AFTER THE SALE IS IMPORTANT. What's a fair price for "customer support"?
NOTE THAT MOST MANUFACTURERS WILL NOT HONOR WARRANTY/GUARANTEE ON PRODUCTS YOU NEED TO SEND IN IF IT IS PURCHASED THROUGH AMAZON OR EBAY
With that said. Amazon and eBay SUCKS! Just Google or Bing "amazon sucks" and "ebay sucks".
PROOF THAT AMAZON SUCKS
Amazon sucks
Amazon sucks!!
Why I Hate Amazon and Will Never Ever Ever Buy From Them Again
PROOF THAT EBAY SUCKS