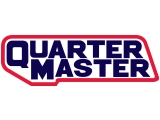 QUARTER MASTER
Founded by Ed Stoffels in 1958, Quarter Master began its life as a quarter mile drag race chassis manufacturing company (thus the name Quarter Master). During the formative years, Stoffels, who is a racer and machinist, went beyond chassis building and was among the first to bring multi-plate style clutches to the U.S. for use in race cars. Multi-plate clutches were great solutions for racers; however their availability to the U.S. market was extremely limited.
Because of the scarcity and high demand of the European clutch, Stoffels saw an opening and seized the opportunity of producing the multi-plate style clutches on his own in the early 1970s. In the ensuing years Quarter Master rapidly became the major player of the design and manufacturing of racing clutches, concentrating on the Circle Track market. By 1976 the company had evolved into a full manufacturing and service company and was recognized as the industry leader of clutch and clutch component manufacturing.
In addition, its clutch manufacturing the company expanded into the production of other Circle Track racing driveline products such as quick change gears for midget and stock cars, flywheels, and many other clutch related mechanisms. In 2003 Quarter Master launched its industry leading "Optimum" clutch line and in 2005 it introduced its clutchless line. The company was successfully positioned as the industry leader in circle track driveline component manufacturing.
Today Quarter Master has earned the respect and loyalty of racers across the country. The company's success is rooted in its philosophy of providing nothing but the very best in products and services.
Quarter Master General Manager Jeff Neal said, "We strive to be the very best on every level of product manufacturing and customer service. By utilizing our substantial engineering and manufacturing resources Quarter Master goes all-out in providing racers with a world-class level of high-quality driveline products. And when it comes to customer service we are second to none."
Maintaining its position as the number one driveline company is no small task, and Quarter Master is always two steps ahead of the rest in product development and customer service. On the manufacturing side, Quarter Master products are produced on the most sophisticated state-of-the-art CNC equipment available. On the engineering side, the company employs the best and brightest engineers who to develop new and better products for racers in every category.
From a product standpoint, Quarter Master serves a broad market that includes Asphalt Short Track, Road Racing, Open Wheel, Dirt Short Track, Driving Schools and NASCAR. The company offers an array of products serving these markets including multi-plate clutches aluminum and steel drive-shafts, quick change gears, starters, hydraulic release bearings as well as "made-to-order" products.
Every Quarter Master product is manufactured on high-tech machinery such as its state-of-the-art CNC turning centers & mills, gear cutting, and broaching equipment. In addition every product is subjected to rigorous quality control inspection before it leaves the plant.
Quarter Master is also deeply involved with race series across the country such as NASCAR's Modified South & East, Grand National East & West, Truck, Nationwide, and Sprint Cup series. They also sponsor ASALM, ASAMW, CRA, PASS, ACT, USAR, Star Mazda, IMCA and USMTS racing series.
Moving into the future, the Quarter Master is prepared for extensive growth with a blueprint that leads to expansive new product development and services to its current markets. The plan also includes a strategy to aggressively to develop products for the drag race market.
Additional future plans call for expansion into other automotive driveline services. As Jeff Neal said, "Long term, we see Quarter Master not only expanding our existing markets, we also have a vision of expanding into non-race related areas by providing engineering and production services that offer solutions in other automotive driveline markets."
"We are prepared to move boldly into the future with the vision of creating additional products and services that will be second to none. We plan to remain the industry leader."