Rugged Ridge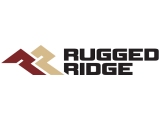 Rugged Ridge
Rugged Ridge develops and sells Jeep parts accessories for the growing Jeep and off road enthusiast market. Rugged Ridge is a division of Omix-ADA, the market-leader for replacement and restoration Jeep parts. With this know-how and experience the Rugged Ridge pedigree is well established in the Jeep market and with the Jeep enthusiast. Realizing that there was a need for new Jeep accessories, the Rugged Ridge brand was established in 2005 to fill that need. Rugged Ridge has designed and manufactured over 3,000 products for the Jeep market and continues to develop hundreds of additional Jeep accessories each year. Many of the recent developed Jeep accessories are patented, like the Jeep floor liners, Jeep snorkel and Jeep XHD modular bumpers. Count on Rugged Ridge to provide you with true and proven Jeep parts and accessories.
Omix-Ada is the world's largest independent manufacturer and wholesale-only company with a full line of Jeep parts and accessories. With more than 15,000 Jeep parts in stock and a retail value exceeding $30 million, Omix-ADA is behind almost all known Jeep parts retailers and warehouse distributors in the USA and in more than 50 countries worldwide.
The owner and founder of Omix-ADA has been immersed in the Jeep industry from childhood. His family owned a small Jeep dealership, and it was there, under his father's wing, that he learned the lessons essential for running a successful Jeep business. The American dream of building his own Jeep parts and accessories company finally became a reality in 1992.
Over the years Omix-ADA has expanded the business by adding and building brands like Rugged Ridge, Alloy USA, and others. By continuously investing in new products and product lines, Omix-ADA is able to service the Jeep enthusiast market covering from 1941 to the most recent models.
We keep the Jeep passion thriving by making sure that products for Jeeps are available, accessible, affordable, desirable, exciting, and functional for the entire spectrum of "The Jeep Thing." Jeep is more than a vehicle; it's a multi-generational icon that elicits a passion in those who slide behind the wheel.