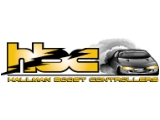 hbc (HALLMAN BOOST CONTROLLERS)
Hallman Boost Controllers has been in business since 1995. We offered the first closed loop manual boost controller at an affordable price. Our boost controller offers the fastest spoolup of your turbo, steady boost and easy adjustability.
In August 1998 Turbo Magazine said "The Marc Hallman Boost Controller is one of the best manual boost controllers available on the market." The Hallman Boost Controller has been proven to outperform the much more expensive electronic units in turbo spoolup. It is no wonder Turbo Magazine gave us such a great compliment.
Hallman Boost Controllers are machined and constructed of high quality materials. We use billet aluminum, stainless steel and brass materials for our valves and internals. This insures a long life of the product and repeatable performance. Our Pro series valves were redesigned in 2002. We continue to offer a lighter spring to help make the adjustment less sensitive. Our bodies are CNC machined, then polished and anodized for a superior appearance and durable finish.
Our kits offer several features for dependability:
Simple adjustment, there is no lock nut or allen wrench(s) needed to adjust boost.
Overboost protection, the internals of the Pro Series valves cannot be lost.
Expandability, every valve is cockpit control ready with the addition of an add-on kit.
Warranty: If you are experienceing any problems, simply return it to us for repair.
In 2004 we were granted our U.S. Patent # 6658849 for our cockpit control cable.
You may be able to find a "cheaper" manual boost controller but no other company or individual offers the quality or the customer support that Hallman Boost Controller offers. Our company and our products are second to none.
Boost is our Business!