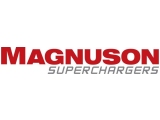 Magnuson SUPERCHARGERS
At Magnuson we believe you should be able to have big horsepower, drivability, and a long-lasting, reliable product. In fact we've been making power you can live with for more than thirty years. We've used what we learned to develop Magnuson Supercharger Kits - the best-selling, most complete line of bolt on superchargers anywhere. We test each Magnuson Supercharger before it leaves the factory - resulting in warranty claims that are almost non-existent. However, we fully stand behind our product if a problem should arise.
It's going to run like it was factory installed because we manufacture and calibrate to OEM standards, just ask our OEM customers. Our calibrations are so exacting that most Magnuson Supercharger Kits carry a CARB EO# and are 50-state emissions legal for on-road use. All of this is achieved through Powertrain Integration. Simply put, this is the process of recalibrating the engine and transmission control programs to work with the altered induction path and boost pressure of the supercharger. This results in a seamless and consistent delivery of power over the entire RPM range, not just high end. It also means that your vehicle will continue to meet emissions and fuel economy standards.
Magnuson Products, LLC. promotes and distributes hybrid roots type superchargers to the automotive aftermarket industry Worldwide. Magnuson's R&D Team combines more than 60 years of system designing experience with state-of-the-art engineering and the latest in computer design and fabrication technology. Magnuson Products, LLC. is capable of developing a complete supercharger system and taking it through every facet of design, fabrication, testing and production.
Magnuson Products, LLC. R&D Team's goal is to create the most durable, quiet, powerful, and efficient supercharger system possible utilizing the "roots style" blower.
Utilizing the latest in computer design technology, Magnuson Products, LLC. creates the initial designs and drawings to begin development of the essential supercharger components. With the use of solid modeling techniques we are able to utilize original designs in our CAD/CAM software to create full size models and patterns, loose run samples for prototypes, and production parts.
Magnuson Products, LLC. has a complete model and pattern shop. We specialize in casting technology, and generate our own match plates and core boxes.
Magnuson Products, LLC. can go from concept to prototype quickly and efficiently. Magnuson Products, LLC. technicians combine modern and time-tested prototyping and fabrication techniques to construct each component to exacting specifications and maintain the stringent quality demands of Magnuson. We have a complete machine shop in house for fabrication of new prototype system components. Our process allows us to cost effectively produce short runs and easily move to high volume production.