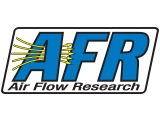 AFR (AIR FLOW RESEARCH)
For over FORTY-FIVE years Air Flow Research has been defining technological leadership in cylinder head manufacturing and flow dynamics. This complete commitment to performance has enabled Air Flow Research's cylinder heads to find themselves on the fastest race cars and the most powerful street machines in the country. As every engine builder will attest to, the secret to increasing horsepower and performance lies in the cylinder head. Air Flow Research's cylinder heads outflow and out horsepower everything in their league.
Air Flow Research early years were defined by their high-powered porting of cylinder heads, innovative porting techniques such as fast burning chambers, D-shaped big block Chevy exhaust ports, hurricane chambers, and their CNC ported cylinder heads. In 1979, AFR pioneered CNC porting with their then revolutionary tape fed CNC machine. Air Flow Research quickly established itself as a premiere supplier to the fastest race teams in the country. Names like Bill Jenkins' Grumpies Toy, Bob Glidden's Fords and Chryslers, Warren Johnson, and Frank Iaconio were getting their power from AFR aluminum cylinder heads.
Air Flow Research cylinder heads became a key consultant to General Motors, designing cast iron and aluminum heads for the still-popular phase 3, 4, 5, and 6 Bowtie Small Block Chevy. AFR designed the big block D port aluminum pro-stock racing head, at that time the state-of-the-art. AFR had also branched out into NASCAR, porting cylinder heads for top drivers like Darrel Waltrip, Cale Yarbrough, Richard Childress, Junior Johnson, Richard Petty, AJ Foyt, Harry Gant, and Neil Bonnet, to name a few. Air Flow Research's pioneering use of wet-flow technology was allowing AFR cylinder heads to obtain unequaled flow and power.
Air Flow Research advanced to full production of cylinder heads in the early 90's by incorporating advanced high density Cast Billet technology into their southern California facility. Now able to maintain full control of design and porting technology, AFR combined their 30 years of high performance racing experience into making aluminum cylinder heads available to a much broader customer base. For the first time, racers were able to obtain full 5-axis CNC ported racing aluminum cylinder heads at an affordable price. In the mid-90's, Air Flow Research was the first to offer cylinder heads for the popular Gen-2 Small Block Chevy LT-1 and LT-4 engine programs and the first to receive a CARB EO number for emission legal aluminum street heads. AFR also introduced the patented "Hydra Rev" to eliminate Hydraulic Roller valve float. In 2004 AFR was the first to introduce the popular Gen 3 LS1 aftermarket cylinder head.
Air Flow Research's design, engineering, and manufacturing technology never rests. As a leader today, Air Flow Research is investing in the horsepower of tomorrow with new manufacturing technology, complex dyno testing, and proprietary flow testing methods. And to assure a long standing tradition to performance, AFR is bringing up a new generation of racers and engineers to meet the demands of tomorrow's engine builders.