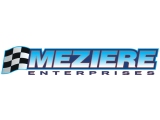 MEZIERE
Meziere Enterprises is a family owned and operated company focused on success through value. For 27 years our goal has been to provide our customers with the very best products we can produce. That starts with designs aimed at solving problems common to the performance vehicles and their demanding parameters. It is executed by our wide array of machining and manufacturing capabilities and attention to detail. It is supported by outstanding tech and customer service. We try to do "just a little more" than our customers expect and make our customers glad that they have chosen our products. Past customers have written the following:
"I am just writing to congratulate you on the engineering of the above water pump and the engineering analysis of the installation. I completed my installation on my 1998 Grand Prix GTP yesterday and it went without a hitch."…" The pump works as advertised and I am showing nice tight temperature control. The old mechanical pump looks like a wimp next to yours."
"I have used your products for years and recommend them to anyone in the sport of racing."
"Also, I was stunned the first time I saw your pump. It is exquisite in every aspect. The finish is immaculate as is the engineering. Very nice piece indeed. You guys did a very nice job on the pump and I am proud to be running it on my 'Stang. Thanks again"
Product development is a top priority for our company. Our line of cooling system products currently includes such items as; electric high flow water pumps, cooling system accessories, thermostat necks, recovery tanks, expansion tanks and radiators. Our line of True Billet flexplates are the very best quality and are now available for a wide variety of domestic engine and transmission applications. We also offer manufacturing of special flexplates. Our new line of True Start starters are head and shoulders above anything the racing world has seen. We are rapidly developing a variety of starter applications as well.
So please consider using our components for your favorite vehicle or for supplying your automotive customers with the best value for their dollar. We look forward to the opportunity to do business with you!