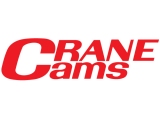 CRANE Cams
The story of Crane Cams began in 1953 when Harvey J. Crane, Jr. set about grinding his first camshaft in the corner of his father's machine shop in Hallandale, Florida. An apprentice machinist, young Harvey became interested in "souping-up" his flathead Ford V-8 hot rod. Like most others, he was strongly influenced by the various "hot rodding" magazines, ordering his first cam from a California cam company's ad.
The first cam Harvey purchased performed well, but when he ordered another, he found it was not at all like the first, mostly due to manufacturing and machining inaccuracies. Harvey's machinist's training and hot-rodder's ingenuity had already taught him that camshaft design and accuracy exacts a critical effect on engine power. He also knew he was easily capable of designing and manufacturing camshafts. What's more, he knew he could design more powerful, far more accurate and repeatable camshafts.
Although money was scarce, Harvey traded his way into a well-used cylindrical grinder. In rebuilding this old, used machine he quickly developed cam manufacturing and design knowledge. Harvey's initial "home made" cams were accurately made and surprisingly more powerful than anything he'd previously purchased. Other local hot rodders soon found out, and began buying his camshafts. And it wasn't long before Crane had a loyal and ever-expanding following in the Southeast.
In 1961 a soft-spoken engineer from Georgia, Pete Robinson, took his unheralded small block Chevy-powered dragster to the NHRA Nationals in Indianapolis and stunned the sport's biggest guns, winning Top Eliminator honors. The legend of "Sneaky Pete" was born, and it also put Crane Cams in the national spotlight.
During the following years Crane made great strides, patenting roller lifter technology, introducing its "Gold Race" aluminum rocker arms that have become the standard of the industry, and pioneered the use of computers to design camshaft profiles.
Previously, cam profile designs required lengthy, tedious mathematical exercises with a slide rule or mechanical calculator. Computer technology slashed this time and substantially increased lobe accuracy. For Crane Cams, the result was an explosion of knowledge gathered, expanded and utilized. Computerization of the science of cam lobe profile design also enabled Crane's design staff to explore new possibilities in cam and valve train.
When NHRA formalized its Major Sponsor program in 1967 Crane was part of that founding group, and competitors who used Crane camshafts and valve train components read like a "who's who" in drag racing history; "Ohio George" Montgomery, Bill "Grumpy" Jenkins, "Dyno Don" Nicholson, Bruce Larson, Don Schumacher and other pioneers.
Soon, word of the amazing power produced by Crane Cams reached circle track racers. This reputation attracted a number of racers and engine builders including: A.J. Foyt, Red Farmer, The Wood Brothers, Bud Moore, Bill Elliott, Junior Johnson, Dale Earnhardt, Richard Petty, Darrell Waltrip, Bobby Allison, Donnie Allison, Cale Yarborough, David Pearson and Dale Earnhardt, Sr.
As Detroit accelerated and expanded its motorsports programs, Crane Cams was tapped as a provider of cam design knowledge as well as becoming a trusted supplier to the automotive industry. General Motors, Ford, American Motors and Chrysler all selected Crane Cams as their choice for a variety of racing and street performance related products and services.
Crane Cams were an integral part of many more recent drag racing performance landmarks, too, with Kenny Bernstein eclipsing the 300 mph mark, Warren Johnson notching the first Pro Stock 6-second pass and his son, Kurt, being first over 200 mph. Crane cams and valve train components are also an integral part of the winning combination fielded by drag racing's most prolific Sportsman racer, Frank Manzo.
Two decades ago Crane Cams recognized the potential for performance camshafts, valve train components, ignitions and electronics for the rapidly growing Harley-Davidson motorcycle market. Today, Crane Cams valve train and ignition products are among the motorcycling industry's most popular.
The company has also excelled in Sprint Car racing, with World of Outlaws legend Steve Kinser and current standout Donnie Schatz having relied on Crane camshafts and valve train components. Harvey J. Crane, Jr. was inducted into the SEMA Hall of Fame in 1981.
While some companies have recently embraced "green" technology, it should be noted that Crane Cams has been an industry leader in this respect, introducing the "Compu Cam 2000" series of C.A.R.B. certified camshafts for the new generation of computer-controlled vehicles back in 1991. Crane did the R&D and testing in its own certified emissions laboratory (a capability that continues with the company's new ownership).
The '90s also saw Crane Cams expand into the ignition field and introduce new, ground-breaking technology. In 1995 Crane introduced the industry's first digital ignition. This was followed by the industry's first digital "drop in" points replacement, the industry's first adjustable distributor with 27 advance curves, and the industry's first distributor to employ fiber optics to send a trigger signal.
Crane's technically advanced ignition systems were subsequently embraced by many oval track competitors, and in the ensuing years the firm's distributors and ignitions have been used by championship-winning race teams in NASCAR Sprint Cup (formerly Winston and Nextel), Nationwide (formerly Busch) and Camping World (formerly Craftsman) truck series, as well as ARCA Re/Max and USAR Hooter's Cup series competition.
NHRA Sportsman Racing standout Mike Ferderer is another competitor who has demonstrated the performance and reliability of Crane valve train and ignition products over the years. A 3-time World Champion (NHRA and AHRA), "Ferd" was runner-up in 2009's Super Gas points chase (missing the title by one round win) and has won several National and LODRS titles already in 2010.
Today, Crane Cams has a significant amount of R&D and manufacturing resources to rely on, including an immense number of state-of-the-art CNC machining centers, dyno cells, Spintrons and a fully government-certified emissions lab. The company has the ability to produce fully digitized camshafts using Landis CNC equipment, as well as grinding cams via traditional methods using production masters. Quality control is assured through state-of-the-art Zeiss optical and Adcole equipment.
With the industry's largest camshaft database, which exceeds 80,000 profiles, an impressive manufacturing capability, and an experienced tech staff (most of whom have 15+ years service with Crane Cams), the company stands ready to provide customers with industry-leading quality products and superior service. From Daytona to Indy and to your local drive-in, Crane Cams has you covered.