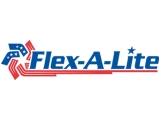 Flex-a-lite
Performance cooling is the foundation of Flex-a-lite. In 1962, Eddy Davis founded this company with the original "flex fan" concept. He developed the first flexible fan out of hand-cut fiberglass roofing material. The concept was to create a lightweight fan that would flatten out at high engine rpm. This would reduce the drag or load on the engine, increasing horsepower to the wheels. Fifty years later, his Granddaughter, Lisa Chissus leads the company with the same innovative spirit that continuously looks for new ways to provide performance cooling solutions.
That's three generations of innovation at the helm of Flex-a-lite. Eddy patented his flex fan design, establishing and building the company. His son-in-law, Rainer Willingham invented and patented the first electric fan for Flex-a-lite in 1978 and led the company from 1976 through 2003. His daughter, Lisa, invented the now patented Flex-a-fit radiator sidetank design, and has led the company since 2003.
Today, Flex-a-lite manufacturers a full line of belt-driven fans, electric fans, transmission and oil coolers, Flex-a-fit aluminum radiator and related components. We take pride in the components we make, and we're still makin' it in the USA. Fife, Washington, to be exact, in our 75,000 square foot facility that includes manufacturing, engineering and product testing labs. But Flex-a-lite is more than a building and a line of products. It's at team of people committed to innovation and quality. The team designs and engineers products, does injection molding and vacuum forming of its products, stamps and forms metal for shrouds, brackets and radiators and does all of the final assembly. There's a lot of pride and care that goes into every Flex-a-lite product.
The original "flex fan" has grown into a family that includes 7-blade fans, low-profile race versions and a nylon model for light weight, as well as a host of other belt-driven fans. We introduced our first electric fan 34 years ago. This removes the load from the engine altogether, providing even more power and fuel economy. Now we offer more than 80 electric fans, including nearly 30 direct-fit applications to make swapping to a performance electric fan an easy endeavor. In 2006, we introduced a completely new idea in aluminum radiators. So innovative, in fact, that we hold a patent on the sidetank technology that delivers 135 percent better heat transfer. Now that's performance cooling! Our latest product, Flex-a-Chill, is a natural extension of the product. We developed it to protect aluminum radiators and other cooling components from corrosion while providing up to a 20-degree drop in engine-coolant temperature.
And we're not about to stop. It is our vision to continue to develop performance cooling products that provide improvements to the vehicle's performance. We have more ideas for new products than there's time to develop. But before we make a product, we want to make sure we can offer a true performance cooling solution. We're an original, not a copy-cat. And after we engineer a new product, you can bet that we'll be makin' it in the USA.