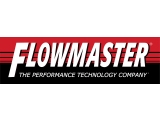 FLOWMASTER
Thirty years ago, Flowmaster mufflers were conceived as a solution to a growing problem with sound issues at race tracks in California and beyond. In his successful effort to quiet race cars without reducing performance, our founder refused to accept the status quo of the day and instead pushed exhaust technology beyond common thinking. This led to many 'firsts' in automotive exhaust science, as well as many patents protecting the various technologies used in Flowmaster products. With those developments, Flowmaster ushered in a revolution in automotive performance exhaust.
Flowmaster is committed to delivering the best exhaust products to the market. Already one of the leader in exhaust technology, our mission is to bring you the highest quality exhaust products through innovation, advance manufacturing experience and dedication to customer service and satisfaction.
Our R&D department, headed by long time Flowmaster exhaust expert and V.P. of R&D Lee Thompson, is tirelessly working to bring new exhaust systems and mufflers specially fitted and tested for most popular brands and models. In addition, the R&D department continuously monitors the performance of our products to make sure we only bring you the best that Flowmaster became well-known for in the automotive industry.
Deep into the 21st Century, Flowmaster has continued to embrace new technologies in the automotive world, while continuing to deliver outstanding sound and performance benefits to all types of vehicles from both our legendary chambered mufflers as well as our laminar flow designs. From our state-of-the-art Research and Development Center, new products and applications are regularly introduced, from mufflers to high flow catalytic converters, high-performance headers and a full line of carefully engineered bolt-on exhaust systems. As always, all Flowmaster mufflers and exhaust systems are developed and manufactured only in the USA.
Applications for Flowmaster technology range from modern sub-compact cars to turbo-diesel trucks, as well as almost every racing class and category from vintage classes to the most modern small-displacement, turbocharged applications. Flowmaster has the ideal exhaust solution for you. Please browse through our website, and call our dedicated tech line with any questions you may have. As automotive technology continues to advance, our commitment to developing the newest and best exhaust products is stronger than ever. For whatever you drive now and in the future, Flowmaster will have the most advanced exhaust vproducts available.