PEDAL COMMANDER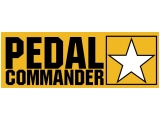 PEDAL COMMANDER
Our United States headquarters is located in Newbury Park, California. We specialize in car, truck and side-by-side vehicle performance products such as: the Pedal Commander throttle response controller and the ChipWerke piggyback tuner systems.
Since 2010, we have been developing new products in the automotive industry with high standards of quality to impress both our customers and our partners. Our mission is to develop new technology using our experience from extensive motorsport history and foresight.
We specialize in domestic manufacturers such as GM (Chevrolet, Cadillac, GMC), Ford, and the Dodge-Jeep-Chrysler group. We also we have generations of experience with German manufactures like BMW, Mercedes-Benz, Volkswagen, Audi and Porsche. We are also embedded in Japanese-based automotive platforms such as Toyota and Honda, just to name a few.
Regardless of the vehicle we are working with, our primary focus has always been one thing: Quality - to the delight of both tuners and consumers. As one of SEMA's newest 2018 product award winners; Pedal Commander guarantee's performance that you can see and feel!