dB PERFORMANCE EXHAUST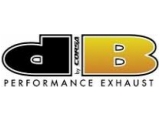 dB PERFORMANCE EXHAUST
dB Performance Exhausts by CORSA designs and creates systems specifically for trucks and their owners. We focus on the needs of specific needs of our customers, those who love to drive their trucks, and through advanced engineering and innovation deliver what they want. Utilizing our intense R&D process, dB Performance Exhausts by CORSA continues to develop systems that allow you to enjoy the look and big sound of your truck.
Based in the engineering prowess and history of CORSA Performance Exhausts, we have engineered the most advanced exhaust systems in the world. Each exhaust system is tailored to deliver exactly what that truck and owner wants. Every system is built with a straight-through design, allowing air to flow freely, deliver a great sound and allow you to get the good growl at idle without annoying tones in the cabin of your truck. In addition, we add a polished 12" Stainless Steel tip to ensure your truck looks as good as it sounds.
Utilizing the most advanced manufacturing methods and making every part in the USA, the team at dB Performance Exhausts ensures the highest level of quality. Starting with advanced 3-D Modeling through the engineering phase, advanced acoustic engineers throughout development, and operating automatic mandrel benders and coordinate measuring equipment, the team at dB Performance Exhausts takes great pride in building the exhaust systems for your truck.
Our true focus on the driver and enhancing their driving experience is supported by the entire team of dedicated associates. We recognize and value the importance of employees at all levels of an organization in creating long-term value and focus on developing and sustaining job opportunities. As a brand of TMG Performance Products, a Division of The Mifsud Group, CORSA Performance Exhausts is committed to its employees, its partners its values and to delivering premium performance exhausts to consumers.