FALCON STEERING SYSTEMS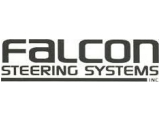 FALCON STEERING SYSTEMS
Falcon Steering Systems was established in New York in 1988. We are known as a manufacturer and supplier of professional grade chassis parts for the aftermarket.
Today, Falcon Steering Systems offers a full line of chassis parts, control arms and strut mount kits, with a worldwide sales network that reaches every continent. Our business model and philosophy is to provide our customers with the highest quality parts, backed by superior service and sales support. As a result, Falcon has earned the reputation as "The Company that stands behind their parts".
Falcon Steering Systems will work to be your best supplier of steering and suspension component parts. We are committed to delivering the highest quality parts at very competitive prices, allowing our customers to maximize their sales opportunities and profitability. We accomplish these goals with honesty, integrity and the highest regard for our customers.
Falcon Steering Systems exists for the benefit of its customers, its employees and its owners. Falcon will operate with high ethical and moral standards throughout all our activities. We know our employees are our main asset and we strive to provide a working environment that is a challenging and rewarding experience. Our business activities are focused on satisfying customer needs by providing the highest quality products and backing them with superior service and sales support.
Falcon Steering Systems is an operating division of Global Automotive Products, Inc.