CAM MOTION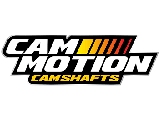 CAM MOTION
Receive high-quality custom LS and Gen5 LT camshafts at our manufacturing facility in Baton Rouge, Louisiana. Since 1978, CAM MOTION has been making the some of the very best camshafts ever produced. We offer fully in house cam lobe designing and camshaft manufacturing. We use the latest state of the art cam design software operated by our skilled design staff to design our lobes. The camshafts are then produced by our skilled machinists on our custom designed and built CNC cam grinders. The whole process is done right here in Louisiana using American made steel. When you want nothing less than the very best, make sure you turn to our professionals.
With more than 48 years of experience, the talented team at CAM MOTION understands how to design and create your camshaft to fit your application. Every cam we build is custom ground one lobe at a time. Thanks to our custom built CNC cam manufacturing equipment, we are able to create every camshaft with a precision that is uncommon in our industry. Your custom build deserves the finest built CAM MOTION CAM to make your combination the best it can be.
Why waste your time and hard earned money dealing with other camshaft marketing companies who don't control EVERY stage of their design and manufacturing when you can come right to the best at CAM MOTION. We not only provide you with high-quality camshafts, but also keep our prices affordable, so you can remain on budget. You should not have to pay more just to get the job done right.