B&M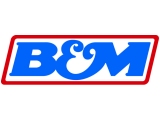 B&M
B&M Automotive Products was founded by Bob Spar and Mort Schuman (B&M) in 1953. In 1955, Bob's brother Don went to work for B&M. Soon after, B&M produced the only patented 4-speed automatic racing transmission in history, known as the famous B&M Hydro Stick.
Through the 1960's B&M became one of the dominant forces in racing automatic transmissions. In 1965 Frank Cannon made the first 200 MPH Top Fuel run in history using a B&M TorkMaster Transmission at Long Beach, California. Don Prudhomme's first solo effort was in the B&M owned and sponsored TorkMaster car. In 1969 B&M teamed up with Andy Granatelli and Plymouth and developed the only automatic transmission ever for Indy Car racing. B&M also teamed up with Chrysler and developed the torque converter for the Hemi that dominated Super Stock racing in the late 1960's. The company was the first to create what is known now as a high stall speed racing torque converter as well as the first to develop the forerunner of today's racing automatic shifters.
By 1970, B&M was very well respected in the aftermarket and by the large automobile manufacturers. By then B&M had done development work and research programs for Chevrolet, Pontiac, Oldsmobile, Ford, Plymouth, Dodge, AMC and Ferrari, and established itself as the market leader in R&D as well as product quality in the area of racing transmission technology.
Throughout the decades, B&M's deep-rooted involvement in racing is what has helped B&M consistently improve the breed in street performance products. B&M isn't resting on its past achievements. From the 1980s, through the 90s and into the new millenium, B&M has introduced literally hundreds of new shifter, transmission and hardcore racing related products and is constantly developing new technology.
B&M is also a proud supplier to many current NHRA World Champions as well as SCCA road course racers world wide. Today B&M is the world's largest supplier of performance shifters to OEMs and tuners in the United States and Europe.